Women and Philanthropy Presents
A Conversation with Glennon Doyle
Sunday, October 16, 1:00 p.m.
Mondavi Center for the Performing Arts (map)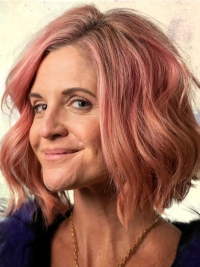 Join us for a symposium featuring a panel discussion with dynamic women leaders and a one-on-one conversation with Glennon Doyle. With her trademark authenticity, humor, and power of inspiration, Doyle is a leading voice of women today. The #1 New York Times bestselling author of Untamed, host of the We Can Do Hard Things podcast, and founder and president of Together Rising shares personal stories illustrating the transformative power of women working together to make an impact.
Together Rising, founded by Glennon Doyle, is an all-women-led nonprofit organization that has revolutionized grassroots philanthropy – raising over $40 million for women, families, and children in crisis. UC Davis School of Law is one of Together Rising's philanthropic recipients. Glennon's other works include #1 New York Times bestseller Love Warrior; New York Times bestseller Carry On, Warrior; and Get Untamed: The Journal.